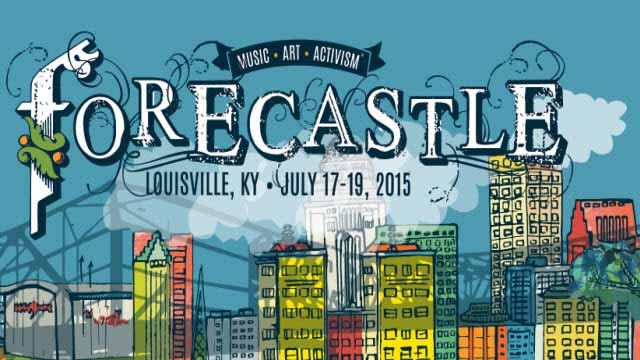 On the weekend of July 17-19, tens of thousands of people from all over the country poured into Waterfront Park in Louisville, Kentucky to take part in the 2015 Forecastle Festival. For three days, fan gathered along the river to enjoy music, food, and good times. I arrived around 6 PM on Friday, to the sounds of St. Paul & The Broken Bones. I made my way over to the Ocean Stage to hear an electrifying performance from Kiesza. Evening in the brutal Kentucky heat, Kiesza danced and sang with passion, and it was a fantastic start to the weekend. I made my way over to the Mast Stage, where Cage the Elephant was performing, but kept my distance so I wouldn't be stuck in the crowd, so I could get good standings for Big K.R.I.T. The King Remembered in Time came out fifteen minutes early, but was still energetic and vibrant till the end of his set. His show was reminiscent of last year's OutKast performance. He even brought out Talib Kweli for a song, since Talib was performing at a late night show that evening. Afterwards was Sam Smith. This was his first show since a vocal chord surgery he had later in the year, and he sounded excellent. Unfortunately, his set was cut short as a huge storm came through and Forecastle had to be evacuated.
The next day started about two hours later than usual due to the storm the night before, but the day ran much smoother. I arrived in time to see Dr. Dundiff & Friends perform, which was basically a sampling of Louisville rap music from artists like Jack Harlow, Jalin Roze, and the 1200. The show came to a climax when all the artists came on stage for a freestyle accompanied by My Morning Jacket's lead singer Jim Jones. Next was ILoveMakonnen. I'm not a huge fan of Makonnen, and don't like the way he wavers his voice out of tune in his verses, but his show was incredible. He kept a more medium tone, and had the most explosive bass I have ever heard (or felt, rather). Every fiber of my being was vibrating during his performance, and I'm surprised my eardrums stayed intact. My night ended with the lively and vibrant performance of Cherub, as the duo laid down smooth track after smooth track.
The final day felt the hottest, and happened to be filled with the most electric music. First up was Lizzo, a female rapper I had never heard of before but turned me into a fan. Then came Robert DeLong, who was immensely talented. DeLong sang, played the keyboard, drums, and would make beats right on stage. Following Delong was RL Grime. While Grime didn't have the same stage presence as DeLong, he brought alone immense tracks that had the packed crowd bouncing around for the hour-long set. I was drenched in sweat and water, and was to exhausted to stay for Widespread Panic for very long.
Forecastle is a mostly indie-folk/rock band, and there was always enticing guitar chords and rustic vocals playing in the background. Big hip-hop names like last year's OutKast and Action Bronson were substituted for smaller, lesser known acts such as Fat Tony, Dr. Dundiff, Lizzo, and the People Under the Stairs. I barely knew any of the bands besides the big names, and was pleasantly surprised at how much fun I had. My only complaint was that many of the bands I wanted to see were playing at the same time, such as Big KRIT and Houndmouth, Sturgill Simpson and Cherub, and The Tallest Man On Earth and RL Grime. I would recommend Forecastle to anyone, especially any Louisvillian since it doubles as a social scene. If you're a fan of any type of music and fun, then Forecastle Fest should be your destination in late July 2016.