Earlier this year, A$AP Yams said that 2014 was the worst year for rap music ever. And he's partially right. No first week sales topped more than 180,000 until mid-December, and there were few big names that released albums this year. And where were the promised albums from Kendrick Lamar, Jay Rock, Action Bronson, Chance the Rapper, Kanye West, and Frank Ocean? Who really led albums this year were the new-comers.
The seventh LP from the Chicago spitter is dedicated to his city. Common raps about his difficulties and the crime in Chi-town growing up, and is aided by current Chicago rappers such as Dreezy and Lil Herb to paint a more current portrait. While many of the sample choices by No I.D. were a bit repetitive, Common still spits some raw rhymes on this album.

The follow-up to the Sail Out EP, Jhene Aiko takes a much more personal route with only two features and more openness about parenthood and her deceased brother. Smooth production and soothing vocals characterize this vibrant LP. While some songs sound pretty similar, any new music from this gorgeous songstress is much appreciated.
When "My N-gga" was released last year, no one really was thinking that YG's debut album would be anything substantial. But the Compton rapper released one of the best street rap albums of the year. Vivid story-telling and banging production courtesy of DJ Mustard craft an interesting album reminiscent of what Dre and Snoop released in the 90's.
Between producing for everyone in 2013 and producing for almost everyone in 2014, Pharrell managed to drop a ten track album in the beginning of the year. Featuring Justin Timberlake, Daft Punk, Miley Cyrus, and Alicia Keys, the ageless producer/singer/rapper crafted probably the bounciest, most upbeat album of the year. There isn't a ton of depth to this album, but it had us humming along all year long.
ScHoolboy Q has always been the raunchier, partying member of TDE. But on Oxymoron, Q moves past party musics and creates a much more introspective album. Don't get me wrong, the bangers on here ("Collard Greens", "Man of the Year", ect.) are amazing, but unlike Habits and Contradictions, which felt like a collection of singles, Oxymoron told a cohesive story. Over gritty, dark production, Q details struggling with addiction, gangs, and drug slinging while simultaneously raising a daughter and becoming a rapper.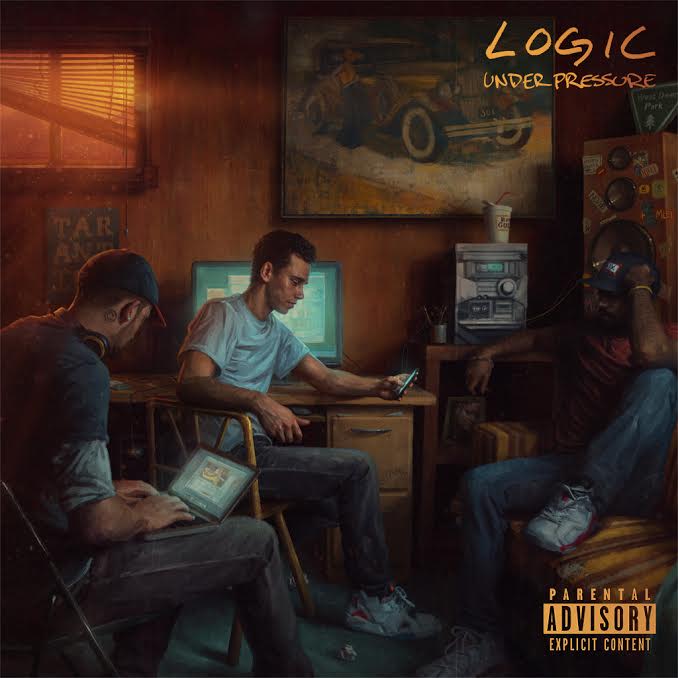 After a string of successful mixtapes, the Maryland rapper released his debut album to a surprising amount of support. The twelve track, featureless album showcases Logic touching on subjects like drug abuse in his family, finally getting famous off of his music, and his nicotine addiction. While the album was not ground-breaking, with obvious influences and less darker, personal subjects than promised, the fast-paced production and Logic's lyricism was unmatched this year.
With little to none marketing, 2014 Forest Hills Drive became the first (and so far only) rap album to be certified gold, and in less than half a month. This is a testament to how well done J. Cole's third album is. With sharper production, and a more centralized theme, 2014 Forest Hills Drive is Cole at his best.

What stands out so much to me about PARTYNEXTDOOR TWO is how much of an upgrade it was from his previous album. PARTYNEXTDOOR TWO has much more polished production, and refined lyrical content. PARTYNEXTDOOR created a smooth summer album, that's also moody and hazy. On songs like "Her Way" and "Recognize", PARTY praises women, not objectifies them, which is a refreshing change in this genre.
While there may never be another
Madvillainy 2, Pinata
comes very close. It's a street rap album with some of the best production of this year. Freddie Gibbs and Madlib blend Midwest rap with 90's East Coast sound, and it meshes together perfectly. Gibbs sounds confident on the record, yet expands on the fear and arrogance of his youth in the streets.
Pinata
also boasts some of the best features of the year, from BJ The Chicago Kid and Danny Brown, to Scarface and Raekwon.
Run The Jewels has found their niche. The duo of Killer Mike and El-P created, yet again, an amazing combination of over-the-top violent lyricism with perceptive social commentary. It's like getting slapped in the face with a picket sign. Explosive production from El-P matches perfectly with the tag-team rapping style of the duo.
Run The Jewels 2
is a whirlwind, fun experience that all rap fans can enjoy. The album can be downloaded for free on their website, so there's no reason not to cop the best album of the year.